Did you get a new kindle for Christmas or maybe your old one has room for more e-books? Well check out these great FREEBIES. Some of our Christian Indie Authors have gotten together to offer you some great free novels as a thanks to our readers. They'd like to wish everyone a Merry Christmas and a Happy New Year!
NUMBER OF FREE BOOKS HERE
Number of books on sale
Click on Book Title or lower part of image for link!
We also have a few novels that ARE NOT FREE but are only .99 cents. Check out these great books. Not all books are free the same days so please check the dates on each book.
We at CIAN would like to wish you a Merry Christmas and invite you to also check out our 2015 Readers Author Conference more details can be found here We hope you enjoy these Free Reads.
---
---
---
---
---
Free Amazon
---
---
FREE SMASHWORDS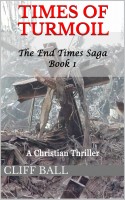 Times of Turmoil: Christian End Times Thriller (Book 1)
Series:

The End Times Saga By

Cliff Ball

The Evans family make it their mission to destroy Christian influence in the United States through wars, protests, and government tyranny in this first novel of seven in The End Times Saga.
Christian thriller, Times of Turmoil, the first novel of seven in the series The End Times Saga, is free on Smashwords:
Free
Amazon
---
Books that are on sale
books that are on sale
books that are on sale
bpppsmdpke